Description
Get OpenAI SaaS Writing Assistant and Content Creator Bundle On CodesOnSale $49 Only 🥳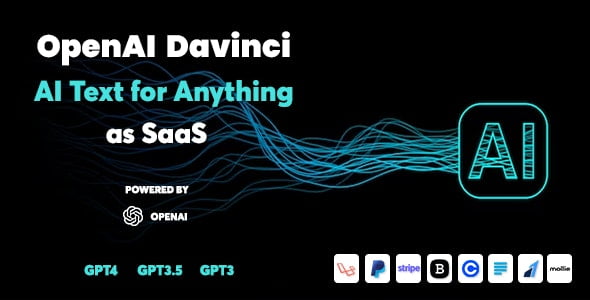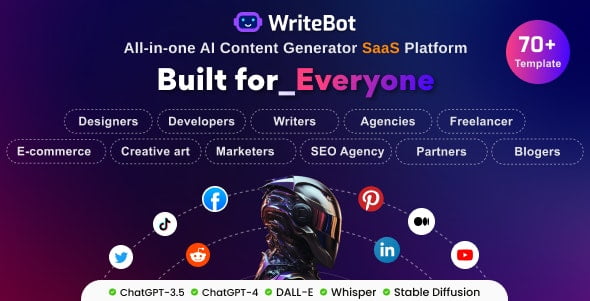 All SaaS features and all Payment Gateways (Paypal | Stripe | Paystack | Razorpay | Mollie | Braintree | Coinbase | BankTransfer) are available. With AI Voice Over & AI Chat.
Start your AI Content Generator SaaS Business Today!
Features of OpenAI SaaS Bundle

Set any of OpenAI Models as needed (GPT4 (8k/32k), GPT 3.5 Turbo, GPT3: Ada, Babbage, Curie, Davinci)
Support for OpenAI DALL-E-2 to generate AI Images
Support for Generating Text in 37 Languages
Unlimited Custom Template creation feature
AI Speech to Text feature
AI Text to Speech feature with 540 Voices and 140 Languages
AI Chat feature
Available 39 Prebuilt Templates (More to Come Soon):

Blog Titles
Blog Section
Blog Ideas
Blog Intros
Blog Conclusion
Facebook Ads
Article Generator
Content Rewriter
Paragraph Generator
Talking Points
Pros & Cons
Summarize Text
Product Description
Startup Name Generator
Product Name Generator
Meta Description
FAQs
FAQ Answers
Testimonials/Reviews
Problem-Agitate-Solution
Video Descriptions
Video Titles
Youtube Tags Generator
Instagram Captions
Instagram Hashtags Generator
Social Media Post (Personal)
Social Media Post (Business)
Facebook Headlines
Google Ads Headlines
Google Ads Description
Academic Essay
Welcome Email
Cold Email
Follow up Email
Creative Stories
Grammar Checker
Summarize for 2nd Grader
Video Scripts
Amazon Product Description

AI Code Feature
Control Text Result Lengths
Convert any Template to Professional Category
WYSIWYG Editor
Combine up to 20 voices on single synthesize task
Synthesize text up to 100K characters in length
Export results in PDF, Word and Text documents
Set Templates as Favorite
Store AI Image results in Wasabi and Amazon S3
Control Template Category Access per User Group/Subscription Plan
Google 2FA Authentication
Google Adsense Support
Monitor User Spendings and Balance
Full Affiliate/Referral system
Fully Responsive Interface
Create Monthly Subscription Plans
Create Yearly Subscription Plans
Create Prepaid Plans
Various Included Payment Gateways:

Paypal (Online) (Monthly/Yearly/Prepaid)
Stripe (Online) (Monthly/Yearly/Prepaid)
Razorpay (Online) (Monthly/Yearly/Prepaid)
Paystack (Online) (Monthly/Yearly/Prepaid)
BankTransfer (Offline) (Monthly/Yearly/Prepaid)
Mollie (Online) (Monthly/Yearly/Prepaid)
Braintree (Online) (Prepaid)
Coinbase (Online) (Prepaid)

Closely Monitor Monthly & Yearly Incomes
Fully Ready to go SaaS Platform
Powerful Admin Panel
Developed with PHP 8.1 and Laravel 9.1
Detailed and Comprehensive Documentation
Shop Securely Grab these deals in order to grow your business using popular payment options.